Llanrwst Almshouse Museum rent rise blamed for closure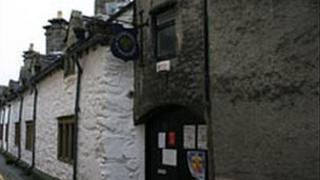 Hundreds of items are being returned to their owners after the Llanrwst Almshouse Museum closed.
The trust which ran the museum said it used to be charged a pepper-corn rent but is unable to afford £2,000 a year for a new lease.
The 12 almshouses have been used to show different periods across the buildings' 400-year history.
Owners, the Sir John Wynn of Gwydir Trust, said it needed money to keep the buildings in good repair.
The Almshouses were built in 1610 by Sir John Wynn of Gwydir to provide shelter for 12 poor older men of the parish, and later women, and eventually closed in 1976.
They were restored by the Sir John Wynn of Gwydir Trust, and the Llanrwst Almshouse Museum Trust was offered the lease in early 2000.
The almshouses were at the centre of celebrations of the market town's history last year.
"We've had the place on a peppercorn rent for about 10 years, but now they want a much higher rent which we cannot afford," said Mr Owen.
He said the museum had been run on a "day-to-day" basis with a team of about 22 volunteers and put on events with the help of a part-time development officer.
'Big loss'
The museum closed officially on the last day of August, but the trust is still in charge as items are either returned to those who lent them, or new homes are found for them at other museums.
"We are very disappointed this has happened because an awful lot of work has gone into it."
Mr Owen added: "No stone has been left unturned and although things are in the offing, there is nothing concrete to say about the future at the moment."
"We are looking at everything, including empty shops, but whatever happens the link to the Almshouses is gone," he said.
Jan Rollason, the chair of the Sir John Wynn of Gwydir trust said the museum's closure was "very sad... a big loss for the town".
"The position is that the trust has no money coming in and needs funds to keep the buildings in good repair," she added.
Pat Rowley, from the Llanrwst and District Historic Society said the buildings need to be preserved.
"The closure of the museum is tragic and if you ask any Llanrwst person they will say the same, and I always think it belongs to the town.
"It's sad the two trusts can't work things out," she added.