Nurse Victoria Horsley cautioned over teen drive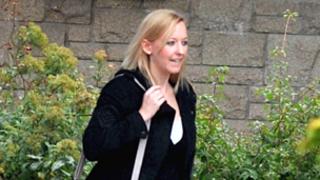 A district nurse who allowed schoolboys to drive her NHS car can continue her career but with a caution on her record for a year.
Victoria Horsley, 36, from Anglesey, was found to have committed misconduct.
A disciplinary panel of the Nursing and Midwifery Council (NMC), sitting in Cardiff, made the ruling.
She had been cleared of having sex with a teenage boy after the panel said there were major inconsistencies in the boy's evidence.
Community staff nurse Mrs Horsley, of Benllech, was found to have allowed the boy and his friend to drive her official NHS car while they were both under-age and uninsured between 2005 and 2007.
It was also found she stayed in contact with the boy's family contrary to advice given to her by her former employer, the North West Wales NHS Trust.
'Personal life'
Mrs Horsley told the tribunal the boy and his brother constantly asked her for lifts in her official car and she admitted taking them to see friends in nearby villages.
Panel chair Cheryl Beach said: "We have noted that the misconduct was not a single lapse in judgement but took place over a number of years.
"It was serious enough to affect the public's confidence in the profession.
"Should Victoria wish to return to her career in nursing it is likely she will have to attend a course which will include guidance in conduct in personal life."
The tribunal heard the boy's parents had put him under pressure to tell police that he had had sex with Mrs Horsley.
But police dropped their investigation after the boy, who cannot be named for legal reasons, gave officers conflicting accounts.
Mrs Horsley declined to comment as she left the hearing.