New Anglesey E. coli case in outbreak linked to nursery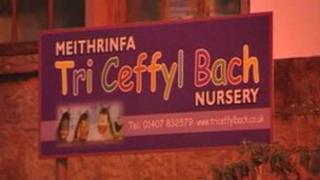 An additional case of E. coli O157 had been diagnosed as part of an outbreak connected to a nursery on Anglesey.
Public health experts said it means seven cases have been diagnosed since 13 October.
So far 60 people associated with the Tri Ceffyl Bach Nursery in Amlwch have been tested for the bug.
A spokesman said it was not unusual for more cases to be identified. Investigations into the source of the outbreak continue.
"It can be difficult to identify a definitive source in an outbreak like this because the bug is so easily spread where young children are concerned," said Dr Chris Whiteside, consultant in communicable disease control for Public Health Wales.
"In Wales about 80 cases of E. coli O157 are diagnosed each year... and people can become infected by eating contaminated food, or through contact with infected people, farm animals or contaminated water."
Dr Whiteside said it was important to reinforce the message that the infection is passed from person to person, so anyone who is ill should observe "strict personal hygiene," to avoid spreading the infection.
Last week the owners said that due to the impact of the outbreak they had decided to close indefinitely and thanked parents and staff for their support.