Top judge opens revamped Wrexham Law Courts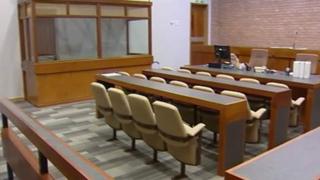 Refurbished law courts in Wrexham have been officially opened by one of the country's most senior judges.
Sir Nicholas Wall, president of the Family Division of the High Court, carried out the opening at a special ceremony on Monday.
He described the revamped former magistrates' court as "impressive".
Wrexham Law Courts opened in April after a £700,000 refurbishment. The "state of the art" centre now deals with criminal, civil and family cases.
It includes four courtrooms, two hearing rooms and secure enclosed docks.
'Justice'
There is also a refurbished public waiting area and café, as well as a separate waiting area for vulnerable witnesses and victims.
Sir Nicholas, who is the top family judge in England and Wales, said: "I'm delighted to be invited to open this impressive and flexible court centre for Wrexham.
"It has been built with the needs of the public and all the court users in mind to provide justice effectively and efficiently."
Wrexham Law Courts were originally opened in 1978 as a magistrates' court facility.
Refurbishment work started in September 2010.