Boycott as long-awaited Porthmadog bypass opens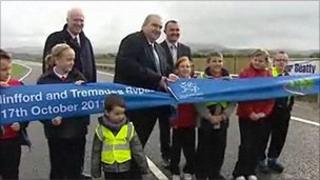 A long-awaited £35m bypass for Porthmadog in Gwynedd has been officially opened.
But town councillors who campaigned for years for the new road to ease traffic traffic problems voted to boycott the ceremony.
They are angry invitations in English only were sent out inviting people to the opening being conducted by Transport Minister Carl Sargeant.
The Welsh government has apologised for the administrative error.
Ahead of the event, Jean Edwards, chair of Porthmadog Town Council, said: "We are not ignoring the event but it is a type of protest.
"Yes the bypass is important, the opening is important but the language is just as important if not more important," she has said.
Apologise
Porthmadog town councillors voted by six to five not to send any official representatives to the opening of the three-mile stretch between Porthmadog, Tremadog and Minffordd on the A487.
County councillors attended the £35m bypass opening.
A Welsh government spokesman said: "Officials issued English-only invitations to attendees of the opening of the Porthmadog bypass.
"We apologise for this and will contact those affected to assure them that the Welsh government is fully committed to securing the long-term health of the Welsh language and promoting its use."
Under the Welsh Language Act of 1993, all public bodies must have their own language scheme.
The Welsh government's own scheme states that it will correspond and communicate in Welsh.
Proposals for a bypass have been discussed for about 20 years.
Work on the bypass finally began in January 2010 after a public inquiry.
It is aimed at improving safety and journey times, as well as reducing congestion in Porthmadog, Tremadog and Minffordd.
However, there has been some concerns over possible loss of trade for businesses in Tremadog.
The contract was completed on budget and seven weeks earlier than expected.
The project involved building eight bridges, including one to take the new road over the River Glaslyn.
A special bridge costing £650,000 was also designed to save the rare lesser horseshoe bats from being killed by vehicles.