Crown Estate lease agreed for Anglesey tidal power farm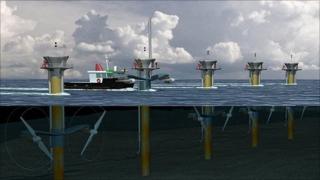 A lease has been agreed which could allow the development of what has been described as Wales' first tidal power farm.
The Crown Estate owns much of the UK seabed, and has agreed a lease for the Skerries Tidal Stream Array, off the Anglesey coast, subject to conditions.
It is hoped a fifth of the island's electricity needs will be generated from the £70m project.
The project first needs environmental consent from the Welsh government.
Plans for the scheme, run by Marine Current Turbines (MCT) and RWE npower renewables, went on public display on Anglesey in 2010.
The 10MW tidal farm would be located about 1km (0.6 miles) off the island, close to the Skerries, a group of rocks and islands off the north west coast.
Decision within months
If given the go-ahead, seven turbines between the Skerries and Carmel Head would act like an underwater windmill.
The companies said the Crown Estate had agreed to issue the project a lease, once the required environmental consents for the project had been granted by the Welsh Government.
An application was submitted to the Welsh government in March 2011 and the companies say a decision is expected within months.
Dr Andrew Tyler, chief executive of MCT, said: "We are a good way along the path to deploy Wales' first-ever tidal farm, and quite possibly the first tidal farm anywhere in UK waters.
"A critical element remains the financing of the Skerries project but I am confident that investment will be forthcoming given the valuable support to date by RWE and the strong interest in marine energy being shown by other utilities and energy companies.
'Strong interest'
"Our efforts are also helped by the UK Government's declared ambitions to harness the energy in our coastal waters and to build a new clean-tech industry in this country."
First Minister Carwyn Jones said: "As one of the most advanced UK tidal projects, already the subject of an environmental impact assessment and in the consents process, Marine Current Turbines' Skerries project near Anglesey is an outstanding example of the future potential for marine energy development off the Welsh coast."
The offshore site agreement is one of several granted by the Crown Estate around the UK.
Rob Hastings, director of its Marine Estate, said: "In the last six months we have continued to see strong interest in wave and tidal leases.
"The Crown Estate's growing wave and tidal team looks forward to working with the companies to overcome development barriers and see the projects come to fruition."