Ioan Gruffudd backs Snowdonia £1m Llyndy Isaf farm bid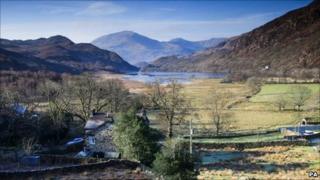 Actor Ioan Gruffudd is the latest Hollywood star to back the National Trust's £1m campaign to buy a farm in Snowdonia.
Catherine Zeta Jones and Gruffudd's friend Matthew Rhys already support the bid for Llyndy Isaf, near Beddgelert.
The trust still needs to raise £150,000 for the farm which is home to threatened species like kingfishers and otters.
Gruffudd, 38, said it was a "once in a lifetime chance".
The campaign for the 614-acre property the Nant Gwynant valley in Gwynedd, which includes the Llyn Dinas lake, is the National Trust's biggest countryside appeal since its drive to save Snowdon more than a decade ago.
It has until the end of the year to raise the £1m needed for Llyndy Isaf, whose owner is retiring and has no son to carry on his work.
'Last bit the hardest'
Gruffudd, a veteran of Welsh-language soap opera Pobl y Cwm and films including Sanctum, The Kid, Fantastic Four and Amazing Grace, said: "When I think of Wales, my homeland, I think of its beautiful coastline and its magnificent mountains, the magical and unspoilt places that make our country special.
"We now have a once in a lifetime chance to protect a small corner of Snowdonia.
"Please support the appeal so that our children and their children can marvel at the beauty of this part of Wales for many years to come."
Richard Neale, National Trust property manager in Snowdonia, said. "The target is £1m, so we really need to keep the donations coming in if we are going to succeed.
"As I often say, the appeal is a bit like climbing one of our mountains, the last bit is the hardest."
The National Trust said that if the appeal succeeds, walkers and campers will continue to have access to the farm and land around the lake, the basic campsite and bunk barns will be open to everyone and there are plans to start improving the network of footpaths.
In 1998, Sir Anthony Hopkins helped raise £4m to buy the Hafod y Llan estate on the southern flank of Snowdon when he got involved in a similar appeal.