St Dunstan's £12m rehab centre opens in Llandudno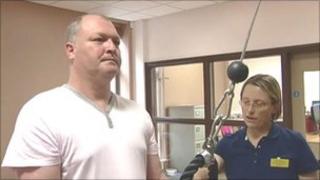 The first guests have started arriving at a new £12m centre for blind and partially sighted ex-servicemen and women.
The St Dunstan's charity has opened its first centre in Wales in Llandudno in a former convalescence home.
As well as offering hotel-style facilities for all ages, it includes a rehabilitation and training unit.
Chief executive Robert Leader said the 40-bed centre would be "invaluable" to help people regain independence.
The centre, which has 14 care rooms, was built in 1902 by the Forrester family as a convalescence home for shale miners.
Injured in conflict
Centre manager Mark Lovatt, who served for 27 years in the RAF, said: "We've got St Dunstaners who have been injured in the conflicts in Iraq and Afghanistan so we've got St Dunstaners from the age of 20 through to 100 plus, so it's a huge and challenging population."
"The centre is purposefully designed as a state-of-the-art rehab and training centre but we also offer holiday and respite care so we are a hotel and a training centre in many ways with the ability to provide care for people that need it."
Mr Leader added the new centre would help to meet the needs of the ever-increasing numbers of residents at St Dunstan's.
"We shall be able to provide help and support to more beneficiaries, enabling them to adapt to their loss of sight, regain their independence and achieve a better quality of life," he said.
"We also hope that our presence in Llandudno will make a useful contribution to the town and surrounding area."