Porthmadog marks the 200th anniversary of its 'Cob'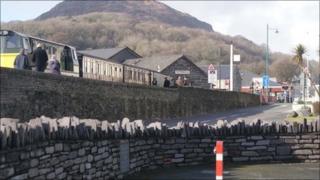 Celebrations are under way in Porthmadog for the 200th anniversary of the man-made structure which allowed the Gwynedd town to be built.
It was William Alexander Madocks' vision to build the Cob embankment to reclaim hundreds of acres of good farmland which lay below sea level.
But the structure also allowed the town of Porthmadog to be built around a thriving harbour exporting Welsh slate.
Industrial archaeologist David Gwyn said it had far-reaching consequences.
"It not only enclosed a considerable area of marshy saltings, but it also created, by accident, a new harbour at Porthmadog."
"This meant that the slates which were already being exported on a smaller scale from Blaenau Ffestiniog, could be loaded onto much bigger ocean-going ships inside a sheltered harbour... and of course in 1836 the railway is bringing slates down," he said.
Last week part of a long-awaited bypass to the Gwynedd town was opened temporarily to help another bicentenary celebration event in the nearby town of Tremadog, which Madocks also built.
Traffic was allowed to use a partially completed section of the £34.4m Porthmadog bypass, leaving the square in Tremadog clear for events.
Madocks used the "great embankment" to reclaim hundreds of acres of land from the sea and, in turn, brought prosperity to the area, linking the slate quarries with the sea.
An Act of Parliament was needed so that the Cob could be built.
Madocks was allowed to charge people using the road on top of the Cob a shilling, which later became 5p.
As modern traffic built up that led to queues along the Cob as motorists waited to pay.
It came to an end in 2003, when the Cob was bought by the Welsh Government, and was widened to make it easier for buses and lorries to pass each other.
Without it the town of Porthmadog would not exist today, said Sioned Roberts from the Cob 200 committee, which has been co-ordinating the celebrations.
"There was a huge boom in the shipping industry, with the slates being carried down from Blaenau Ffestiniog - which brought these two towns together," she said.
"It's remarkable to think that Porthmadog would never have existed without Madocks' work."