Prince William aims for RAF promotion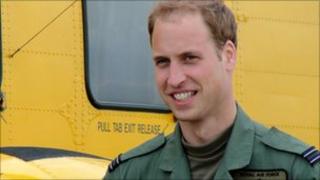 The Duke of Cambridge is aiming for promotion to take full charge of his helicopter - at his base, RAF Valley on Anglesey.
A royal spokesman says Prince William, 29, is due to complete his training by next summer, putting him in charge of the full crew when flying rescue missions.
His Anglesey posting could last for three years, but he is expected to work in the Falklands during it.
The Duke and Duchess of Cambridge, who married in April, live on the island.
The duke, who is known as Flt Lt William Wales in his job, qualified as a search and rescue pilot last September, after a 19-month training programme, six months of which were spent at RAF Valley.
In April he spoke of his work and admitted there were "hairy" moments for crews involved in rescues in the mountains.
In July, it was announced the Duke and Duchess of Cambridge were to cut down on their royal duties - partly to avoid overshadowing the Queen ahead of her Diamond Jubilee year in 2012.
At the time the couple had just returned from a high-profile tour of Canada, their first overseas visit together.
William and Kate were mindful that the Queen "quite rightly should be in the spotlight", a spokesman said.