Books frozen after leak at Anglesey's Plas Newydd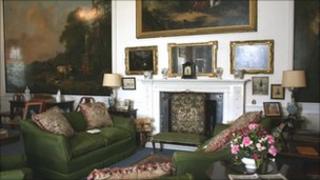 A kitchen freezer has been used to help save valuable books damaged by a water leak at a National Trust mansion.
Staff decided to freeze the damaged books after the plumbing leak was discovered at Plas Newydd, Anglesey.
Estate manager Richard Williams said they realised that could "buy some time" for the worst affected antiques after a frantic dash to the property.
A paper conservation expert said wet books were frozen to stabilise them and reduce further damage.
The leak was discovered in the saloon late on Saturday evening, leading staff and volunteers to hurry to the building.
"Water was coming through the walls and ceiling into the saloon and we had to work quickly to save all the items," said Mr Williams.
"We took the decision to drill holes in the ceiling to drain the water and stop the plasterwork collapsing, then we had to get everything that we could out of the saloon," he said.
Mr Williams said despite many of those working having some conservation and salvage training, valuable items were bearing the scars.
A 12-metre square pastoral landscape by Flemish artist Balthasar Paul Ommeganck in 1789, was damaged by the dripping water, as were many pieces of furniture.
"Due to its size and age there was no way of taking the painting off the wall without risking further damage, but it will have to be carefully removed now for repairs," said Mr Williams.
Despite the emergency, the house opened to the public as normal on Sunday.
No figure has been put on the damage caused, Mr Williams added.
"We take the view that everything in our collection is of equal incalculable value, and each piece is as important to the trust as the next," he said.
Conservation specialists will carry out months of restoration work on the damaged room and items.
Andrew Bush, a paper conservation adviser, said delaying working on the books will also provide breathing space to allow treatment of other affected objects.
Mr Bush said books could soak up a great deal of water and take a long time to dry.
"Books are often only partly wet when discovered and water spreading through a book will cause staining, but more important, it will cause severe structural damage to books as different parts of the books expand, and expand at different rates," he said.
"A frozen book will remain stable for weeks and months, and they are often freeze dried in a vacuum, a process which allows the frozen water is converted directly to water vapour without going through the liquid phase which would cause damage," he added.
The house is famous for its association with the artist Rex Whistler. He was in love with Lady Caroline Paget, the eldest daughter of the sixth Marquess of Anglesey, although his affection was unrequited.
A notable feature of the house is his 18m (50ft) trompe l'oeil (trick of the eye) mural in Plas Newydd's dining room.
Whistler was killed, aged 39, on his first day of action with the Welsh Guards in World War II in 1944.