Vehicle on Snowdon: Man charged with driving offence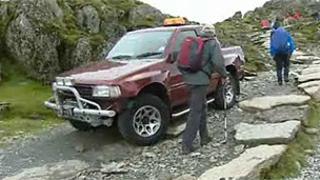 A man has been charged with a driving offence after a 4x4 vehicle was found close to the summit of Snowdon.
The charges relate to driving a vehicle on common land, moorland or land which is not part of a road.
The man, 39, from Cheltenham, Gloucestershire, has been released on bail to appear before Caernarfon Magistrates Court on 16 September.
Options for removing the Vauxhall Frontera include a winch by helicopter or using the mountain railway.
The incident on the highest mountain in England and Wales - 1,085m (3,560 ft) - happened on Saturday.
The Vauxhall Frontera is currently still on the mountain, close to the Snowdon Mountain Railway line.
Walkers have been photographing it on their way up to the summit.
The vehicle is believed to have been driven up the railway track.
Alan Kendall, the general manager of the Snowdon Mountain Railway said there were four options to get it back down.
"It could be winched off by helicopter, broken up and brought down in pieces, ramped onto a flat bed truck and brought down on the railway or driven down," he said.
"As it is on park land the park is ultimately responsible for this, but we will do all we can to help, although we haven't yet had a conference with the park to see what we can do," he added.
In a statement the Snowdonia National park said it supports the views expressed by the Llanberis mountain rescue team.
"This sort of incident is unacceptable and shows a lack of responsibility on behalf of the individual/individuals involved.
"Along with the obvious dangers posed by this type of incident, it could cause damage to the footpath and landscape, which means added work for the Snowdon footpath teams."
It added that "in respect of the severity of the incident", the Snowdonia National Park "encourage the police to take firm action against the owner of the vehicle".
There is a history of taking various things up the mountain, although taking motorised vehicles up the slopes has been banned since the creation of the national park in 1951.
Sam Roberts was warden on the mountain for nearly 40 years, he says there are very few things which have not travelled to the peak.
"It's difficult to think of anything which hasn't been up there," he said.
"There have been pianos, beds, stilts, a unicycle, people have gone on their hands and knees, backwards.... although of course they were all there legally, because no motorised vehicles are allowed."