Facebook riot invitation lands Bangor man, 21, in jail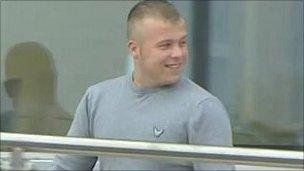 A 21-year-old man has been jailed for four months after posting an invitation to start a riot which appeared on Facebook for 20 minutes.
David Glyn Jones, of Bangor, Gwynedd, told friends: "Let's start Bangor riots," Caernarfon magistrates heard.
The court heard an ex-colleague saw the post and alerted the police.
Jones, who admitted an offence under the Communications Act, did not think it would be taken seriously, his solicitor said.
The court heard that Jones typed: "I don't see why everyone's complaining about the rioters.
"Given the chance I'd love to smash up a police car, wouldn't you?"
The prosecution said the invitation, posted as a Facebook "event" on 9 August, was seen by a woman who had worked previously at a shop with Jones.
She reported it to her supervisor and police were alerted.
Jones told police it was "a moment of stupidity" which he regretted.
Defence solicitor Deborah Tennant-Davies said Jones had apologised for his behaviour.
"He didn't think it would be taken seriously and the matter was only on Facebook for 20 minutes," she said.
The solicitor added that he told police: "I have acted completely out of character. I don't know why I did that, I didn't intend to incite any violence."
But deputy district judge Mark Layton told him: "You sent a large number of people an invitation to start a riot."
At least six individuals around the UK have now been identified and dealt with for using social networks to encourage disorder.
The toughest sentences to date have been in Cheshire where two men were charged with inciting rioting and jailed for four years.