Conwy deadline on library service changes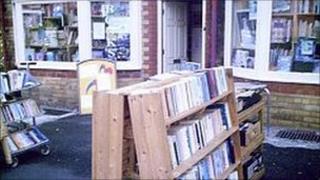 Dozens of people have already responded to a consultation on plans to close up to seven branch libraries in Conwy.
The deadline on the proposals for the 12 libraries in the county ended on Friday, with nearly 300 feedback forms received beforehand.
The council said it wanted to hear "every idea" on the libraries' future.
Meanwhile, a bookshop owner is encouraging people to "get reading again" by setting up a small reading library inside her store in Colwyn Bay.
The county council is considering two options, the first of which would see seven libraries close at Cerrigydrudion, Deganwy, Kinmel Bay, Llandudno Junction, Llanfairfechan, Penmaenmawr and Penrhyn Bay.
The other would see five libraries shut at Deganwy, Llandudno Junction, Kinmel Bay, Llanfairfechan and Penrhyn Bay.
It was claimed at a council meeting last year that some of the county's libraries were among the worst in Wales, with poor book stocks, too few staff, and were in buildings which needed maintenance.
The council launched a consultation before making a final decision and has received 291 feedback forms.
Goronwy Edwards, cabinet member for communities, said: "I'd encourage as many people as possible to respond so that every voice and idea is heard."
Figures show book borrowing in Wales has increased in recent years.
According to the Chartered Institute of Public Finance and Accountancy, there were 681,000 "active book borrowers" in Wales in 2009-2010, an increase of 5.4% on 2008-2009, which had also recorded an increase.
Colwyn Bay's library is not on the list of possible closures, and received £100,000 worth of improvements in 2008.
But local book shop owner Dr Sibani Roy believes reading in general is in decline, and wants to do her part to "get people reading again".
She said: "We all know it's almost a universal truth that book reading is in decline.
"I want to get people to read books."
Although they won't be able to borrow books, Dr Roy said her 'library' at the Swanlake bookshop would be very informal.
"Whoever comes here will be made to feel at ease, and can have a cup of tea while they read on the premises," she said.
'Community'
"We have books on all possible subjects. We won't be charging."
Dr Sibani - a Colwyn Bay town councillor who has a doctorate in medical ethics - said she currently had room for about four people to use the service, but might expand if it proved popular.
On the county's potential library closures, she said: "I'm dead against it.
"Our local library in Colwyn Bay was so helpful to me when I was doing my postgraduate degree."
She added: "I feel I owe it to the community."
Tim Godfray, chief executive of The Booksellers Association, said: "Great independent booksellers are right at the centre of their communities.
"Moreover, many of our members have been instrumental in campaigning against local library closures and we have encouraged and supported their campaigns.
"We are interested to hear about any new initiatives run by bookshops, indeed it is more important than ever before to share ideas, inspiration and opportunities."