Three medieval walls found at Maenan Abbey Hotel, Conwy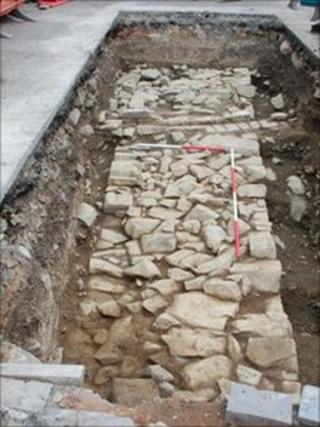 Three medieval walls, thought to be nearly 700 years old, have been found in the grounds of a Conwy hotel.
Drainage work at the Maenan Abbey Hotel, near Llanrwst, unearthed two walls - one thought to be the original abbey's cloister wall - underground.
On Monday, a third wall was discovered and ancient monuments agency Cadw are due to visit the site on Wednesday to decide how to proceed.
Hotel general manager David Hughes said the discoveries were "wonderful".
Mr Hughes said the first wall was discovered within an hour of starting work on the drainage system at the hotel.
He said: "The grounds here are a scheduled ancient monument, because of the importance of the abbey in its day, so Gwynedd Archaeological Trust were on site when we found the first wall.
"It's believed to be the cloister wall of the abbey, built in 1282. They're about 6ft thick.
"Then another trench was dug alongside and we found another wall.
"The two walls were intersected by an 18th Century drain."
For now, the first two walls have been covered and back-filled, but Mr Hughes says he wants them on show for visitors to see.
However, Andrew Davidson, chief archaeologist with the Gwynedd Archaeological Trust, said: "It would be too difficult, and wouldn't favour them, for the remains to be exposed.
"Almost certainly, they will be covered over and protected. They are much safer underground."
The abbey is believed to have been built in about 1282, to relocate monks after King Edward I ordered the removal of their Cistercian monastery from Conwy town, so he could build a castle there.
The abbey was destroyed in the 16th Century during Henry VIII's dissolution of the monasteries, and the current property was built in the 19th Century.
Mr Davidson said the discovery was "very exciting".
He added: "We knew it was there and the Cistercian monastery had been moved by Edward from Conwy.
"We can now start to get an idea of the layout."
A Cadw spokesperson said: "Cadw will be visiting the site on Wednesday to assess the excavations.
"More information will be available in due course."