William Gladstone's descendants to reopen Hawarden pub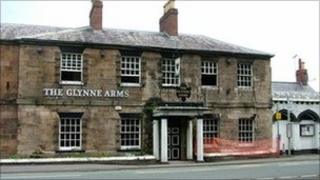 The great-great grandson of former Prime Minister William Gladstone is to save a 200-year-old derelict pub.
Charlie Gladstone and his wife Caroline are renovating the Glynne Arms in the centre of Hawarden in Flintshire where they live.
The listed building has been empty since the brewery that ran it went bankrupt last year.
The couple have a farm shop in the village and say they want Hawarden to become a food tourist destination.
Liverpool-born Gladstone, who served four terms as Prime Minister in the 19th Century, moved to Hawarden when he married his wife Catherine Glynne and it was where he eventually died.
In 1881 it was Gladstone's Liberal government that passed an act banning the sale of alcohol in Welsh pubs on Sundays which was not repealed for 100 years.
The Glynne Arms formed part of the Gladstone family estate but passed from them in the 1970's to a range of breweries until last year when it shut.
Mr and Mrs Gladstone who run a working farm and local shop in the village are now taking it on.
It is expected to open next year after extensive refurbishment.
Work has started and a beam has been found which dates to the pub's construction in 1812.
Mr Gladstone said: "I'm sure Hawarden residents will welcome the reopening of The Glynne.
"We have the opportunity to build upon the farm shop's success in curating and showcasing wonderful local produce and artisan products."