Monty Python star Terry Jones to reopen Theatr Colwyn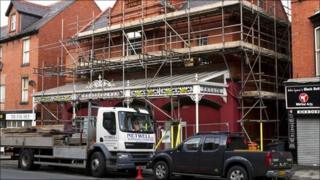 A special Monty Python event, fronted by hometown star Terry Jones, will mark the official reopening of Colwyn Bay's Victorian theatre after a facelift.
Jones, Theatr Colwyn's patron, will be interviewed by comic Phill Jupitus after a screening of the Python classic, The Holy Grail.
The grand reopening will be held on 15 October, the theatre has announced.
The building has undergone refurbishment after receiving a £750,000 grant.
The money has been spent creating a new box office and a community room.
Jupitus, who is a team captain on BBC 2's Never Mind The Buzzcocks, will interview Jones as part of a special Monty Python afternoon, which includes a screening of Monty Python and the Holy Grail.
The session will end with questions from the audience.
Money has been spent moving the bar and creating the box office, office space and community room. There will also be disabled access to all floors.
The theatre was expected to open last spring, but the revamp was delayed by a few months due to unforeseen structural problems.
The venue's new programme will reopen on 14 September with a production of Godspell, before Jones, who lived in the town until he was four, returns for the official ceremony.
He lent his support to the project in a visit to the theatre in April 2010.
"I've got a soft spot for Theatr Colwyn because my granddad used to run the Colwyn amateur dramatic society in the 1930s," he said at the time.
"He conducted a performance of Yeomen of the Guard here, which was also to raise funds. So it's great to follow in his footsteps."
Sarah Ecob, general manager, said: "Terry is one of the most famous of all comedy writers and performers.
"For him to make a second visit to Theatr Colwyn is wonderful. The Monty Python afternoon event will not only benefit the venue but also St David's Hospice, which provides a vital service to the community."
The building is said to house the oldest operating cinema in the UK.
Alice Robinson, chair of of the theatre's joint management committee, said: "I have been associated with the venue for decades now but have never seen any redevelopment on the same scale as this, it has been a major refurbishment."
She added: "It is so exciting to see this finally happen, after so many years of hoping. But this is just the first phase. We need to carry out a second phase of redevelopment at the rear of the stage, so the fundraising needs to continue."