Conwy Council votes against sharing chief executive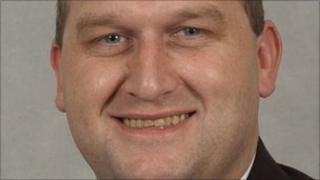 Plans to share a chief executive with a neighbouring authority have been rejected by Conwy councillors.
Members ignored a plea by Local Government Minister Carl Sargeant for authorities to collaborate more.
Instead, councillors voted to advertise the job of chief executive internally.
Former chief executive Byron Davies, who was suspended after being cleared of raping a woman council employee, resigned in June.
Councillors said the chief executive job would be advertised internally at first, but an external advert would be placed if no suitable candidate could be found.
The proposal was one of the number put before councillors at the meeting on Thursday.
Conwy's head of corporate human resources, Phil Davies, told members in a written report that while he was not recommending any course of action, sharing a chief executive with another authority would be in keeping with a request by the Welsh Government.
Last month, Local Government Minister Carl Sargeant said he expected to see more collaboration and joint appointments.
Partnerships
He claimed the staffing structure of Wales' 22 local authorities was outdated, with too many of them independently hiring chief executives without looking at other options.
But Coun Ronnie Hughes, the authority's business manager, said: "What's got under my skin is members of my party ridiculing Conwy County Borough Council for what's going wrong in local government.
"We keep being told Conwy isn't working in partnership, but I am staggered by the work that we are actually doing to work with other authorities.
"We have a shared highways department with Denbighshire, we share officers in planning and regulatory services."
He continued by reading out a lengthy list of partnerships which the authority is currently involved in.
Conservative leader William Knightly added: "We are not here for the Welsh Government to tell us what to do. This joint idea doesn't have many positive attributes."
Mr Davies resigned from his post last month.
He was cleared of the rape charge in January but was found guilty by the council of misconduct in March for being overly aggressive towards staff.