Police called to protest at BBC Wales' Bangor office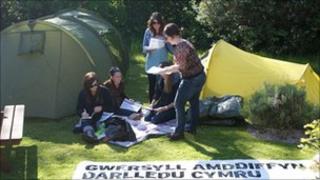 North Wales Police have been called to a protest by Welsh language campaigners at the BBC Wales offices in Bangor.
Twelve members of Cymdeithas yr Iaith Gymraeg, the Welsh Language Society, have set up tents in the grounds of the Bryn Meirion site.
They oppose what they call potential effects of proposed cuts to S4C and BBC Wales by the BBC and UK government.
In response, the BBC said it was committed to Welsh language provision and the editorial independence of S4C.
Menna Machraeth, of Cymdeithas, said an e-mail had been sent to BBC director general Mark Thompson saying "the media in Wales is under threat because of the cuts to S4C and to BBC Wales".
"We call on the BBC management in London to pull out of their deal with the Westminster government to merge S4C with the BBC."
There was a "wide consensus" in Wales that the plans were wrong, she added.
In response to the protest, a BBC spokeswoman said the UK government's decision to change the funding arrangements for S4C "cannot and does not amount to a BBC takeover of S4C".
"The BBC is utterly committed to Welsh language provision and to an editorially independent S4C.
"The BBC has also made it clear that local, regional and national services will continue to be at the heart of what it does on its own services and any decisions coming out of the process looking at how to meet challenging savings targets would be subject to approval by the BBC Trust."
In April the BBC said S4C's funding was reduced as part of last October's Spending Review and ministers considered a new partnership model with the BBC the best way of securing the long term future of the service.
"This proposition was put to the BBC in the context of discussions on a new licence fee settlement," said the BBC at the time.
"The BBC has made clear repeatedly that it has no ambitions to take over S4C," said the statement. ‬