Horse whisperer tames Carneddau ponies in Snowdonia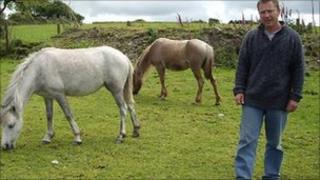 A horse whisperer has succeeded in a challenge to tame some of Wales' wildest ponies.
The Carneddau mountain ponies of Snowdonia date back to around 500BC and have never been domesticated, so are at risk of becoming endangered.
Barry Thomas, from Crymych in Pembrokeshire, has been working hard to secure their future.
The Carneddau Pony Society said anything that can sustain the breed for centuries to come is welcome.
Mr Thomas, who grew up on the family farm, learned his skills from Monty Roberts, an American trainer believed to have been one of the inspirations for the novel and film Horse Whisperer.
He is the only certified Monty Roberts instructor in Wales and one of only 38 in the world.
He told BBC Wales that the fact the ponies, which are said to be Britain's oldest breed, have never had any human contact before could prove to be their downfall.
After an end-of-season sale last year in which 45 of the Carneddau ponies were sold for just £430, Mr Roberts was asked to see if he could do what nobody has ever done before - tame and train a Carneddau pony.
The full extent of his success will be revealed in an S4C series in August.
"They live between 1,900 and 2,000 ft and they are on the endangered species list," he said.
"There's not very many of them left on the Carneddau mountains and this is the only place where they are found."
He said that because the horses' breeding has never been manipulated, they offer an insight into what horses looked like 2,500 years ago.
"The problem the ponies had was because they were so wild there was no market for them so they weren't worth anything.
The Carneddau Pony Society hoped the training would help increase the animals' market value, which in turn would give the Snowdonia farmers the incentive to breed them.
Gareth Wyn Jones, secretary of the society, said: "I think it's fantastic that he has been working with them.
"We want to keep the ponies on the mountains and we have got another four years left with the grant we were given but we know the public pursestrings are tight.
"We either need to secure a new deal or find a sustainable way of keeping the ponies- it's like Last of the Mohicans up there!"
Mr Thomas added: "That's the hope that if they can sell some of these ponies and create an awareness then the ponies' value will be better.
"They don't want to make profit, they just want a little bit of money so that they can ensure a future for these ponies on the mountain."
Mr Thomas travelled up to Snowdonia to collect two ponies last month and described the experience as like stepping back in time.
"They have little short tails and the quality of their feet, they were like rock, and they were running down the hill as quickly as a horse would go up a hill.
"They were like streaked lightning."
'Wild and untouched'
He explained that the method of training involves gaining a horse's trust, by speaking its own language.
"We use the human body to mimic how other horses would move and communicate within a herd and then to form partnership 50:50 between the human and the horse."
Mr Thomas said training the ponies was a privilege.
"It was amazing - when you get hold of a wild and untouched horse, you have to be so accurate with mannerisms and training because they will pick up on it.
"If we don't raise the plight of these ponies, potentially we could lose the oldest breed in Britain and they could become extinct."
The full story of what happened when Mr Thomas trained the Carneddau ponies will be featured in four episodes on S4C in August, showing every Monday at 20.25pm.