Thomas the Tank writer's centenary marked at Talyllyn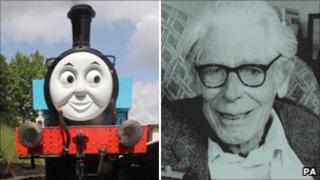 Celebrations marking 100 years since the birth of the creator of the Thomas the Tank Engine books are being held at the Welsh station which inspired him.
The Reverend Wilbert Awdry based his stories on experiences as a volunteer at Talyllyn Railway, in the 1950s.
A new exhibition includes the model railway on which he based his stories.
This year marks the 60th anniversary since a preservation society took over the railway in Gwynedd, of which Awdry became a member and volunteer guard.
For almost a century the narrow gauge railway hauled slate through Snowdonia before becoming a museum in 1951.
Passengers also used the service to reach remote villages high in the hills.
Talyllyn Railway found its way into Awdry's books, first appearing as the Skarloey Railway in Four Little Engines in 1955.
Preservation society members say real events formed the basis for the stories themselves, including the story in Four Little Engines of how the refreshment lady was left behind.
In the book it was Peter Sam but in reality it was Awdry himself, they say.
Awdry was born in Hampshire on 15 June 1911. Along with his brother George, it is said he inherited his father's passion for railways.
Eventually, as a vicar in Birmingham, he turned his stories - created to amuse his son, Christopher, into 26 Thomas the Tank Engine stories which became a global success with children.
Talyllyn Railway line runs for seven and a quarter miles (11.8 km), on a gauge of 2ft 3ins, and carries thousands of passengers and fans of the children classic each year.
The line runs between the seaside town of Tywyn and the village of Abergynolwyn in the heart of Snowdonia National Park.
Event organisers at The Talyllyn Railway Preservation Society say Awdry volunteered as a guard on the railway in August 1952, remaining a supporter until his death in 1997.