Harlech swimming pool £1m refurbishment work under way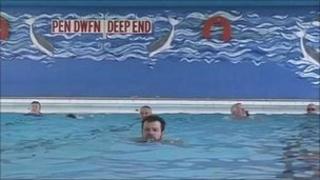 Work has begun on a £1m project to refurbish Harlech swimming pool in Gwynedd.
A community group took over the running of the pool in December and must now make it pay its way.
It is hoped a new climbing wall, cafe and refurbished facilities will increase revue at the building.
But volunteers say its more important than ever for the public to use the pool if it is to avoid the threat of closure once again.
They have secured grants from the lottery and Welsh Government after taking over the pool from Gwynedd council.
Trevor Gennard, director of Harlech and Ardudwy Leisure, the community business that has taken over the running of the building, became involved in the campaign to save it because his two daughters swim there.
"It's hard work. All the directors are volunteers and we've all got own careers as well as doing this," he said.
"But the end goal is what we set out to do and hopefully that's within reach now."
But he said it was vital the community used the pool.
"The community was behind us all the way. We need people to come and use it.
"It's not safe yet. It needs to make itself pay."
Site manager Paul Jones said so far the builders had been able to work around the pool's opening times.
"We are trying to keep the pool open as much as possible and hopefully we will be able to stay open all the way through."