Segontium Museum closes for summer amid Cadw takeover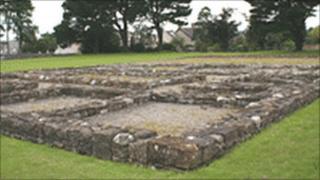 Welsh heritage body Cadw will take over the management of the Segontium Museum and Roman fort in Caernarfon, Gwynedd.
The financially-troubled museum will remain closed this summer, although the external areas of the fort will continue to be open to the public.
Cadw will take over from from Segontium Cyf, a company run by local people.
The museum would be "better served under the direction of a statutory body," a meeting of the managing company decided.
The unanimous decision was passed by a meeting of the board.
The local volunteers took over responsibility for the museum from the National Museum of Wales 10 years ago.
Segontium Cyf is continuing to discuss the terms of the handover with Cadw, a Welsh Government body.
Rhys Prydderch, chair of Segontium Cyf said: "No more money has been forthcoming and so it is the same situation as we have been in over the last few months."
Hywel Roberts, secretary of the Segontium Cyf board, said that: "The board feels it has taken plans for the development of Segontium as far as it can on its own.
"We are delighted that Cadw will be working on plans to ensure that the site and the museum building are used for public benefit."
A Welsh Government spokesman praised the work of Segontium Cyf and said: "Cadw will continue to work closely with local people to keep the site safe and to develop its interest for visitors and local residents".