Helen Beard on saving toddler in Florida balcony fall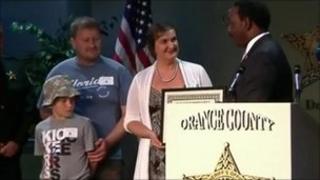 A woman who caught a toddler when she fell from a third-floor Florida hotel balcony has been talking about the drama for the first time.
Helen Beard, originally from Llandudno, was by the pool when she saw 16-month-old Jah-Nea Myles about to fall.
"I ran and was lucky enough to be able to get underneath her before she lost her grip - it felt like ages but I'm sure it was only seconds," she said.
"I tend to be a bit dramatic in day to day life but quite good in a crisis."
Ms Beard, a former pupil at Ysgol John Bright who now lives in Worksop, was on holiday in the US in April with partner Philip Charlesworth and 10-year-old son Ben.
The drama happened on their second night at the Econo Lodge hotel in Orlando.
"I was lying by the pool and I heard somebody shout out - I turned round and saw this little girl hanging from the balcony," she told BBC Radio Wales.
"I think I frightened the gentleman on the ground floor who couldn't understand why this mad woman was running, screaming and shouting at him.
"He closed the door very rapidly - people just didn't know what was going on."
The girl slipped through the third-floor balcony railing and fell 40ft (12m) into Ms Beard's arms.
"I broke her fall but didn't grip tightly because I was scare of injuring her so we went down together on the floor, and I sat with her on my knee while we waited for the ambulance to arrive," said Ms Beard, a data analyst with Doncaster health authority.
"It was most strange - it almost seemed in slow motion. You just react at times like that.
"I remember sitting there with her on my lap talking to her while this chaos was reigning around me of everyone shouting, crying and wondering what's happened.
"When her mum came down I had her mum just hold her hand - I didn't want to give her up and risk further injury.
"She (Jah-Nea) was very tearful when she fell but by the time the ambulance got there she was actually quite calm and starting interact with me, touching her hand to my face."
Ms Beard said she was amazed to become the centre of media attention once news of her rescue spread.
"It was fascinating - we manage to dodge the press on Thursday and sneak off to Disney World.
"But by Friday morning everyone knew my name - my mother in law texted me to say we've heard about you on the news."
Hullabaloo
Ms Beard agreed to give a press conference where she was awarded a medal of merit by Florida police.
But she turned down requests to fly to New York for interviews with US TV networks because the family wanted to continue their holiday.
She said the police and a local hotelier proved very helpful in making it happen.
"They moved us to another hotel, free of charge, under assumed names, and moved us under police escort - all very dramatic," she said.
"We had an amazing holiday in the end, the remaining 10 days after all the hullabaloo - we were given a driver and a car, we were spoilt rotten - it was lovely."
The reluctant hero now wants to step out of the spotlight and get on with her life, but she said she would write to Jah-Nea's mother Helena Myles via Florida police to ask how she was doing.