BioBlitz at Ugly House in Capel Curig to find wildlife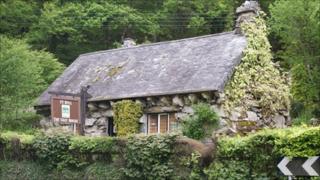 A race has begun to find as much wildlife as possible in 24 hours at the Snowdonia Society's Tŷ Hyll/Ugly House headquarters.
The BioBlitz at the picturesque setting in Capel Curig, near Betws-y-Coed in Snowdonia, is taking place on Friday and Saturday.
Members of the public can take part in 10 different events guided by experts.
It is the second BioBlitz event in north Wales, following a survey last year at Wepre Park, Flintshire.
"This is the first time it's been done in Snowdonia, and only the second time in north Wales," said Sarah Medcalf, from the Snowdonia Society.
"In Flintshire they found around 475 different things in a country park, and it would be great if we could find this many at the Ugly House," she said.
The BioBlitz began at noon on Friday and ends at noon on Saturday.
"It should be really good fun and it will be exciting to find out what we have got here.
"It would be great too if we could make it a year-on-year thing too," she added.
The Snowdonia Society rescued the landmark on the side of the A5 in the 1980s after it had fallen into disrepair.
According to the society's website, its origins are a mystery, but it might have been built as a 15th Century "tŷ un nos", which was a dwelling built overnight.
But it says, a more likely explanation is that it was built in the 19th Century as a picturesque cottage to appeal to the growing tourist trade.
The building is used as offices and display area.
The survey will take place in the five acres of cottage-style garden and woodland, which is looked after by volunteers to attract and sustain wildlife.