Catherine Zeta Jones backs appeal to buy Snowdonia farm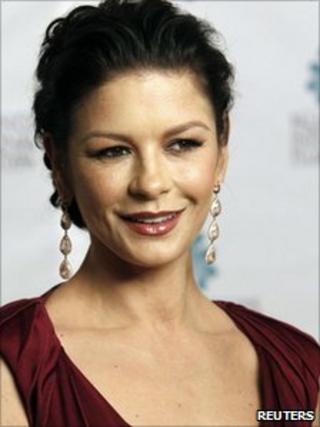 Catherine Zeta Jones has added her support to a £1m National Trust campaign to buy a farm in Snowdonia.
The Hollywood star's plea follows an appeal by actor Matthew Rhys over the purchase of the 600-acre Llyndy Isaf.
£500,000 has already been raised towards the holding in the Nant Gwynant valley near Beddgelert, Gwynedd.
Zeta Jones said it was a "once in a lifetime opportunity" to protect the location for future generations.
In March, Rhys launched the charity's biggest appeal for more than a decade to save the "stunning" hill farm on the shores of Llyn Dinas lake in Snowdonia.
Farmer Ken Owen is retiring after 35 years and has no son to carry on his work.
The trust said it needs to be protected because it is "an unspoilt gem" and one of Wales' most precious landscapes.
The appeal is already half-way towards its target and the trust hopes Zeta Jones' plea can boost donations.
The actor said: "The National Trust plays a key role in protecting and managing the Welsh countryside.
"The beauty and landscape of Snowdonia is truly unique and we have a once in a lifetime opportunity to protect Llyndy Isaf in this stunning part of Wales for future generations.
"If we don't act now the threat of commercial development could spoil the tranquillity of this special part of Snowdonia."
Richard Neale, the National Trust's general manager in Snowdonia, said they were delighted with the public response so far.
"We're well on our way to raising the £1m needed to secure the future of Llyndy Isaf, thanks to the generosity of individuals who have made donations by post and online," he said.
"When we launched the appeal I started a blog, and I've been amazed by the response.
"People have been asking me questions about the place, what the threats to it are and how they can donate, it all goes to show how much people care about protecting special places like Llyndy Isaf for the future.
"I know we're half way there but we can't rest, we still need another £500,000 to enable us to buy the farm and undertake immediate and essential environmental improvements."
Llyndy Isaf is home to threatened wildlife species like kingfishers, otters and the chough, the National Trust said.
In 1998, Sir Anthony Hopkins helped raise £4m to buy the Hafod y Llan estate on the southern flank of Snowdon when he got involved in a similar appeal.