Inquiry after fire at Trawsfynydd nuclear plant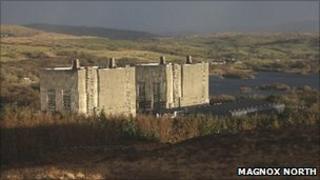 An investigation is under way after a fire broke out at the Trawsfynydd nuclear site in Snowdonia.
Firefighters were called to the plant after reports of a small fire in one of the buildings at 1300 BST on Thursday.
All 220 site staff were evacuated while crews made the area safe.
A spokeswoman for site owners Magnox said there was no release of radioactivity and staff were allowed back to work at 15.30 BST.
The power station in Gwynedd ceased generating in 1993 and is being decommissioned.
Magnox said they were alerted after a fire alarm was activated in the ponds complex on the site. These were previously used to cool reactors.
"All site staff were quickly mustered and accounted for. No injuries were caused as a result of the fire.
"The emergency services were quickly on the scene and confirmed the problem to be a small fire in the ponds export building (part of the ponds complex).
"This was isolated and made safe, and an investigation is underway into the cause of the fire.
"The event did not cause any release of radioactivity, and at no time was there any danger to site staff."
The fire was caused by an isolator, which controls electricity supplies, overheating and igniting some rubbish in a plastic bin.
All similar isolators on the site are currently being inspected.
The spokeswoman said the fire had happened in a "clean area" where staff do not have to wear protective gear.
North Wales Fire and Rescue Service said it sent three crews from Blaenau Ffestiniog, Porthmadog and Harlech, to the scene.
A spokeswoman said this was a standard response and the small fire was quickly under control.