Prince William's double mountain rescue after wedding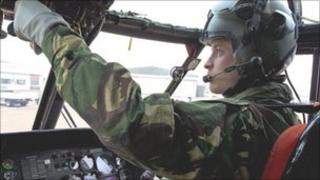 The Duke of Cambridge has been involved in two rescues, just days after his wedding.
Prince William was among the crew of an RAF Sea King helicopter from RAF Valley in Anglesey who flew to the aid of a 70-year-old walker in Snowdonia.
The man was said to have had a heart attack on the 2,946ft (898m) Lliwedd mountain on Wednesday night.
After flying him to hospital in Bangor the crew returned and flew four men off Snowdon after one suffered vertigo.
The men, thought to be police officers from the West Midlands and in their 20s, were walking at 3,560ft (1,085m) on Crib Goch when one became unwell.
They were airlifted down from the narrow ridge in an area known as Crib-y-Ddysgyl - the scene of previous tragedies.
Llanberis Mountain Rescue Team said a helicopter from RAF Valley on Anglesey was used to airlift the climbers.
RAF Valley confirmed that the prince was a part of the crew involved.
Elfyn Jones, the chairman of Llanberis Mountain Rescue Team, said 15 of his team were dealing with a separate incident when the call came in.
"We were initially dealing with a 70-year-old man who had suffered a heart attack on Lliwedd. A helicopter from RAF Valley took him to hospital," he said.
"We then heard that an individual was suffering from vertigo nearby and could not continue. The helicopter was already in the area and it returned and took the men to the base of the mountain. They were not injured."