Royal wedding: Anglesey boost as William returns to RAF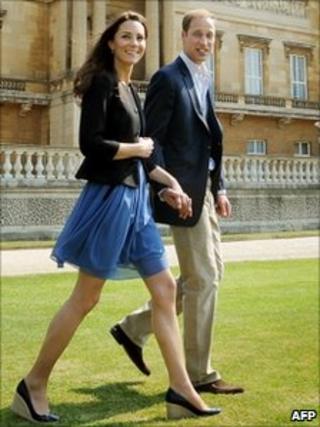 Prince William is returning to work on Anglesey, just four days after marrying Catherine Middleton.
The Duke and Duchess of Cambridge are believed to be back on the island, where he works as an RAF rescue pilot.
Some local people have been welcoming the "fantastic" exposure the royal wedding generated for Anglesey, saying it has been good for businesses.
But there are also warnings that the island must build on the worldwide publicity to create jobs.
The royal newly-weds have delayed their honeymoon after Friday's wedding, although Clarence House has said they would not be spending the weekend at their home.
The island hosted a number of parties and special occasions on Friday to celebrate the occasion, and many local people have welcomed the media attention.
Neil Rowlands, manager at the Tre-Ysgawen Hall Country House and Spa on Anglesey, said: "The profile of the island has gone from small island off Wales - it's now global.
"The coverage has been fantastic from the wedding and the inquiries we're receiving and local businesses are enjoying, it's just great news."
Mandi Abrahams organised a series of events to celebrate the royal wedding in her home village, Rhosneigr.
She said: "It's been absolutely huge and the attention on Anglesey is fantastic.
'Wonderful place'
"It is a wonderful place to live and we're really pleased that people are discovering it.
"William and Kate themselves have done a huge amount for the island since they have been here, got very involved in local campaigns and to help preserve our very vital services.
"I think they have caught the real Anglesey bug.
"When you go away from here you ask yourself 'What am I doing, I need to get back to Anglesey'?
"It's the only place really to be if you live here."
However, despite the welcome publicity and the hope that it will boost tourism, Ms Abrahams said unemployment problems on the island remained a "very big concern".
She said: "We have some very real economic issues here.
"We need people to live here rather than just visit.
"I mean, it's brilliant that people are visiting and seeing us on the internet and so forth, but we really need people to come and take up the properties and live here, create businesses here and create jobs here so that our kids can stay here once they come out of school."
Hotelier Mr Rowlands added: "I think this has got to be handled sensitively, and remember the reasons why they've [the royal couple] chosen to live on Anglesey."It is so they can live a relatively secluded life.
"However, at the end of the day they are the royal family."As long as we manage this properly, it certainly offers plenty of opportunities.
"The early signs, and they are early, is that people have recognised Anglesey, business is looking a lot better than it was 12 months ago, enquiries are higher.
"The forecast looks better, looks good."