North Wales seaside towns' anti-social crackdown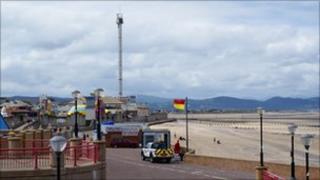 Anti-social behaviour in seaside areas of Denbighshire and Conwy is being tackled by extending measures which prevent groups congregating to drink.
Dispersal orders come into effect at the Memorial Gardens and along the promenade at Rhyl.
Another covers the promenade and cycle path from Pensarn to Kinmel Bay from 0600 BST on 1 May.
Police said the move would have a positive impact on the area, both for visitors and local people.
"We are very pleased that the dispersal areas have been renewed and extended this year," said local North Wales Police inspector Dyfan Jones.
'Quality of life'
Insp Jones said a great many people had been working to improve the areas covered and the dispersal orders would help them.
"Drinking in public has an adverse effect not only on visitor's perception but also on the quality of life for residents... I'm confident that we can have a positive impact on the area," he added.
The orders give police the power to order groups of two or more who congregate in the locations covered to leave the area.
Officers can also order groups who do not live in the area to leave and not return.
There is also a ban on those aged under 16 from the area between 9pm and 6am unless with a parent or responsible adult.
Phil Rafferty, head of regulatory services for the partnership between Denbighshire and Conwy councils said using dispersal orders had proved effective.
But introducing or renewing the orders was "not in itself the solution", he added.
"There is a great deal of hard work involved in making these orders effective," he said.
This involved a "good working relationship" with North Wales Police.
"Of course it does not stop there, the support of the community is essential so that any improvements are maintained in the longer term," Mr Rafferty added.