Chernobyl radiation checks on Welsh farms reviewed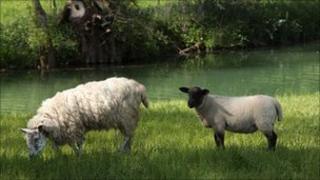 The Foods Standards Agency is reviewing how it monitors 330 hill farms in Wales, 25 years after the world's worst nuclear accident at Chernobyl.
Rain carried radioactive material to north Wales after the explosion at the Ukranian plant in 1986.
Sheep from affected areas are still scanned before entering the food chain.
Farmers living under the restrictions say any changes to the system, by the Food Standards Agency, must maintain customer confidence.
In the weeks and months following the accident on 26 April 1986, more than 5,000 farms were placed under restrictions.
Over the years this number has come down to the current 330 in Wales and eight in Cumbria, England.
The restrictions mean any sheep and lambs which graze on higher ground have to be brought down to lower lying areas to allow radiation measurements to decrease, before they can be sold.
According to Aeron Prysor Jones, who farms near Bala in Gwynedd, no-one could have predicted how things have turned out.
He said that anyone still under restriction would have found it hard to believe that it would still be in place after 25 years.
"We were told, and presumed, that the whole issue would be over and done with in a matter of weeks or months," he said.
Mr Jones said that radioactivity levels in lambs "drop significantly" as soon as they are moved down to lower pasture.
He said that despite the constant monitoring of his stock before sale any review of the current system of scanning would have to maintain safety levels.
'More realistic assessment'
"The key issue is to maintain public food confidence in the product and to assure them that the product is one hundred percent safe," he said.
"If any changes are to be made they need to be based on concrete evidence that the products remain safe in the future," he added.
The Foods Standards Agency says it is reviewing "all aspects of the policy on sheep controls due to post-Chernobyl contamination".
This will include how date is gathered, the risk to consumers and whether any measures are required to maintain the safety of food.
"This review will assess the risks to consumers by considering the potential radiation dose, taking into account farming practice and consumption patterns," a spokesman said.
"This will allow a more realistic assessment of consumer risk rather than the current method, which only considers the activity concentration in sheep."
During the process of the review the current restrictions and controls on the movement of sheep, in restricted areas of England and Wales, remain in place, he added.