Pete Waterman marks Welsh Highland railway completion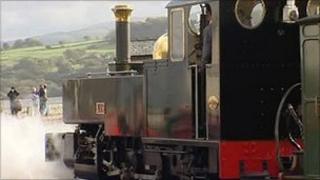 Music producer Pete Waterman has unveiled a milestone to mark the completion of the UK's longest heritage railway, the Welsh Highland.
Work on the narrow gauge rail line running from Caernarfon and Porthmadog through Snowdonia has cost £28m and involved thousands.
The ceremony also marked 175 years since the original Ffestiniog Railway from Blaenau Ffestiniog to Porthmadog opened.
The unveiling took place in Porthmadog.
The company said the Ffestiniog and Welsh Highland railways were easily the longest narrow gauge railways in the UK.
The 25-mile (40km) journey between Porthmadog and Caernarfon currently takes around two hours.
Volunteers
Passengers can then disembark at Porthmadog and take the Ffestiniog Railway to Blaenau Ffestiniog, making the over all journey around 40 miles (64km).
Work on the Welsh Highland line began in the mid 1990s and was partly funded by grants along with donations from sponsors and the public.
The project has had some local opposition over the years, and there has been sporadic vandalism on parts of the track.
In February North Wales Police investigated after benches were discovered on the tracks of the Welsh Highland Railway near Beddgelert station.
Amongst other hurdles the project has had to overcome, are public inquiries and ministerial interventions over who, if anyone, should have the right to the Welsh highland heritage.
Not everyone was happy with the prospect of a railway, as some farmers and others found themselves sharing land with tracks and trains.
Andrew Thomas, from the company, said the railway had brought money into the area.
He said: "Research by a Bangor University student a few years ago showed the railway brings £15m of income to the local economy each year," he said.
He added that the total cost of rebuilding the railway was about £28.5m, or "about £1.1m a mile".
Paying tribute to the volunteers that made the project possible, he said: "There's been a hard core of about 1,000 people who come on a regular basis to drive the trains, work as firemen, guards, laying the track.
"The volunteers are vital. We couldn't run the railway without them."
The railway has 65 full-time staff.
One of those, Sarah Van Lottum, used to regularly drive 700 miles from her home near Glasgow to work on the railway.
She now lives in Gwynedd, is a seasonal worker on the trains, and welcomes the official opening, despite the delays along the way.
"Now we have it we can concentrate on improving it," she said.
One passenger said: "I think it's the most scenic route in the UK."