Anglesey £70m tidal power project plans go forward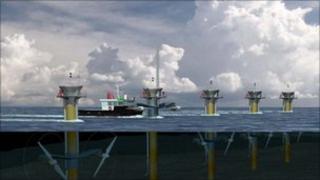 Plans for a power-generating tidal farm off the north Wales coast have been submitted.
The £70m project for the underwater turbines, off the north west coast of Anglesey, was first announced three years ago.
Marine Current Turbines (MCT) and RWE npower Renewables are behind the scheme off Holyhead, between the Skerries and Carmel Head.
If given the go ahead by ministers, it could be operational by 2015.
With technology similar to on-shore windmills, developers say the turbines should create enough electricity to power 10,000 homes on Anglesey.
The seven twin rotor turbines would be arranged across an area of 0.56km².
The plans, together with an environmental impact assessment, have gone to the Welsh Assembly Government.
Martin Wright, CEO and founder of MCT said: "Tidal power is a predictable and reliable source of renewable energy and our technology can play an important part in helping Wales realise its renewable energy targets as set out in the Welsh Assembly Government (WAG) energy policy statement.
"It aims to capture 10% of the tidal stream and wave energy off the Welsh coast by 2025, making Wales a UK low carbon economic area for tidal energy."
Mr Wright said it would represent a "significant step" in meeting government targets, as well as creating green jobs.
A similar project has already been developed at Strangford Lough, Northern Ireland.
Professor Howard Platt of the Northern Ireland Environment Agency confirmed that both they and MCT have been monitoring the situation there closely since 2008.
"This has been a high-profile case worldwide of putting in such an installation," commented Prof. Platt.
"We don't have any evidence of adverse effects in an area which is highly protected.
"There is on-going monitoring to detect any changes in the seal population and there have been no shifts in the dispersion patterns of birds or the sea bed communities.
"However, there may have been changes in the behaviour of harbour porpoises sheltering in the narrows."
MCT says if the Anglesey project does go ahead, it will generate both new skilled jobs at utilise local businesses to help install and maintain the turbines.
They say they have also sought the views of local groups and environmental organisations regarding this project.
Joseph Kidd, MCT's development manager for the project, said: "Engagement with local interests is an important part of our work, particularly local marine recreation groups and so far the response to our plans has been generally positive."
MCT hope the Welsh Assembly Government will make a decision on their plans by the end of 2011.