Curtain may fall on Coliseum cinema in Porthmadog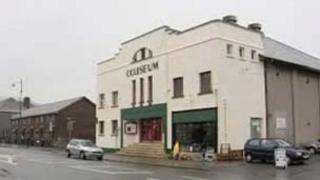 One of Gwynedd's oldest cinemas may get a reprieve after a meeting to decide its future.
Porthmadog's Coliseum, which opened in the 1930s, was forced to close its doors in January amid dwindling audiences.
Some showings have seen the auditorium empty.
At an extraordinary general meeting of the Coliseum [Porthmadog] plc on Tuesday, a group of local people interested in running the cinema as a charity were given a month to come up with a viable business plan by the shareholders.
In 1985, 50,000 £1 shares in the cinema were sold to locals, some of whom took their place at the meeting, attended by about 60 people.
But now the cash has run out, and if these new plans are not satisfactory, the company may have to sell the building.
Those who showed interest in keeping the cinema going intend to run it as a charity, leasing the property from Coliseum plc and attracting grant funding to help maintain it.
They were told, however, that even though no income has been generated since January, utility bills and council rates of £5,000 must be paid to cover the next three months.
The building also needs £60,000 spent in maintenance.
"Hopefully we will pass it on," said the company secretary, Eryl Morris.
He said the cinema was in a worse position than in 2007, when £14,000 was raised for necessary refurbishment to prevent it from closure.
"People just weren't coming to see the pictures we were showing," said Mr Morris, who added thtat screenings had already been cut to four a week.
"If they don't come in, we don't make a profit, not with what the film companies charge. They want 55% of takings if you show a film on the first week of release."
Digital formats
Mr Morris said many locals seemed happy to drive the 42 miles (68km) to the multiplex in Llandudno Junction, though income was boosted by tourists during the summer.
He also feared that extra spending may be needed to upgrade the projection equipment as films take on digital formats.
Meryl Roberts, 70, a shareholder, said before the meeting: "I can remember my mother taking us there when we were children.
"There were three changes of film a week then.
"People from all over would come down on a Saturday night and I think it was a way of us keeping out of trouble!
"But I don't know about teens today. I suppose there's much more on television for them.
"I don't go so often myself, either, although i do have a friend who regularly goes. It would be sad if it closed."