Bangor University opens up its archives in open day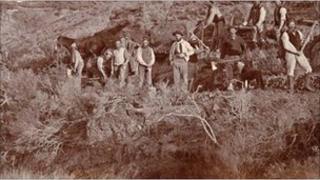 Letters by Florence Nightingale, the signature of Elizabeth I and the original script to The Beatles' film A Hard Day's Night are among items being displayed as part of Bangor University's archive.
Visitors are invited to browse medieval books, photographs of film stars and local maps during an open day on Friday afternoon.
Archivist Elen Simpson said she was looking forward to shedding light on her work.
"There are all sorts of things which have been collected over the years through various sources," she said.
"We've got six letters by Florence Nightingale to the local MP, William Rathbone [1890s], asking about the typhoid epidemic in Bangor.
"We've also got Elizabeth I's signature on a letter from the Plas Newydd estate. It's very big with lots of squiggles."
There are also letters signed by Elizabeth I's sister, Mary, photos from the Welsh settlement in Patagonia and a hand-written copy of Yr Arwr, the work with which Welsh poet Hedd Wyn posthumously won the National Eisteddfod in 1917.
One of the rarest books on display is the Pontifical, a 14th Century book in which Bishop Einion of Bangor notes daily services at Bangor Cathedral.
It has recently been rebound and digitised by the National Library of Wales and its contents will soon be available to view on a dedicated website.
"One table will be dedicated to a collection of papers by Alun Owen, who wrote the script for the film A Hard Day's Night," added Ms Simpson.
"He was born in Menai Bridge, but his family moved to Liverpool when he was young, and he was an actor in the 1950s. So there are lots of photos of him with famous people like Michael Caine and Ronnie Barker."
Another table will display maps, rent books and surveys from the large estates of the area, including Plas Newydd and Penrhyn Castle.
The archivist said many people found this helpful in tracing family or property connections with the estates which were such large local employers.
"We could have put in so much more," said Ms Simpson. "But we tried to choose a selection that people might not expect to see here."
The open day will take place at Bangor University from 1300 to 1630 GMT.