Menai Bridge inquiry into 'village green' for waterside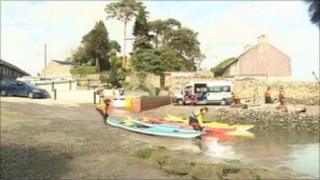 Supporters are hoping to designate a spot on the banks of the Menai Strait on Anglesey as a "village green" to protect it from any development.
A three-day public inquiry has started into a bid to register the pocket of land, which includes the Porth-y-wrach slipway.
Anglesey council says it is against the village green idea and will present its case to the inquiry.
But supporters say it is a popular spot with public access to the water.
Rob Evans has been trying to register the land as a village green since 2004.
"This is one of the only places in Menai Bridge where anyone can go down to the water to paddle, throw stones, launch a boat or land fish," said Mr Evans.
"It's a nice spot to sit in the sun as it is sheltered from the wind, and some people just like to come down here and watch the world go by on the water," he added.
Mr Evans said he wanted to see the place remain as it is.
He said the present structures date back to the World War II.
"There is a village green act which would mean that if it recognised as such it can never be changed, nothing can be built on it, and it can never be sold - and even if it was the new owners would not be allowed to do anything," Mr Evans added.
An Isle of Anglesey County Council spokesperson said: "The authority's property service is against turning Porth-y-wrach into a village green and will present its arguments at the inquiry which begins today."
The inquiry is being held at the Memorial Hall, Water Street, Menai Bridge on Tuesday 22 March (from 1000 GMT).