Conwy council finds Byron Davies guilty of misconduct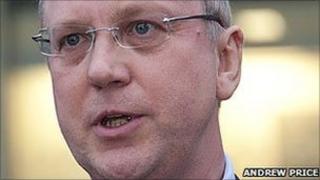 The chief executive of Conwy council has been found guilty of misconduct for being overly aggressive towards staff.
Allegations against Byron Davies, 52, were aired at a meeting on Monday, and the minutes were published on Friday.
They show the council passed a resolution which found him guilty of misconduct, while the minutes include claims he was rude and abrasive.
Mr Davies, 52, was suspended last March after he was arrested by police investigating an alleged rape.
The council chief, from Yelverton, Devon, has been suspended for a further unspecified period while the council looks into other matters.
In January, Mold Crown Court found him not guilty of raping a woman who said she was too drunk to consent to sex. The judge in the case told him he was leaving court with his good character intact.
Abrasive
The council has said the first set of "disciplinary matters" has been concluded but "other matters" needing consideration have now come to light.
The minutes from the private meeting on Monday, which found Mr Davies guilty of misconduct for his over-aggressive behaviour to staff, include claims he was abrasive, rude and confrontational on frequent occasions.
The minutes also include a claim that he displayed a lack of judgement in March 2010 because he drove his car home after having consumed at least three pints of beer.
There is another set of disciplinary matters, and it is alleged that Mr Davies might have misled the council's senior disciplinary committee when he answered the question about whether he had ever been convicted, arrested or investigated for any form of misconduct either in work or out of work in the past.
Conwy council said it was looking into this allegation, and two others, and Mr Davies remained suspended while an investigation took place.
On Monday, Conwy council said in a statement: "Conwy County Borough Council met today and concluded its consideration of an independent report into disciplinary matters relating to its chief executive, Mr Byron Davies. That matter has now been concluded.
"However, as a result of the need to examine other matters that came to light during consideration of the investigation report, the council decided that Mr Davies should be suspended for a further period."
Mr Davies took up his post at Conwy council in February 2009.