Glaslyn osprey's early Porthmadog visit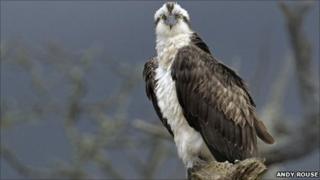 One of Porthadmog's most loyal visitors has returned a week earlier than expected.
The male Glaslyn osprey has started preparing the nest for his other half who is expected anytime soon.
The only known breeding pair in north Wales, they usually don't arrive from wintering in west Africa until later in March.
Geraint Williams, manager of the RSPB reserve, believes the mild weather has attracted them.
The ospreys have been breeding in Porthmadog since 2004.
Mr Williams said: "He arrives normally a day or so before the female but this year has arrived a week before we were expecting him," he added.
"Usually he comes and starts to prepare the nest - with any luck she should be here any time soon.
"It is very early . . . the good weather has made them decide to come a bit sooner."
He said the ospreys were big draw for tourists to the town.