Anglesey council 'could be run by commissioners'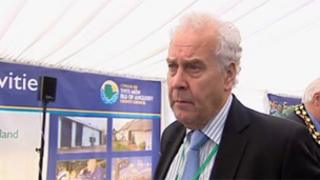 The future of troubled Anglesey is expected to be announced soon, with the possibility that commissioners will be brought in to take charge.
Local Government Minister Carl Sargeant is likely to confirm his decision this week, and sources say he will appoint new figures to run the authority.
A meeting scheduled for Monday to hear the results of an inquiry ordered by the minister has been postponed.
An assembly government source said the situation had passed a "tipping point".
The meeting was due to have been between political leaders and Wales Audit Office officials at Llangefni.
It is understood that the audit report, on which Mr Sargeant will base his decision, does not contain any recommendations.
But well placed sources say the detail and nature of the intervention are expected to be in the minister's statement, said BBC Wales political reporter John Stevenson.
In an interview on TV's The Politics Show Wales, Anglesey council leader Clive McGregor said Mr Sargeant called in the Wales Audit Office to conduct a "short, sharp review" of the authority in February.
'Chequered history'
He said the minister had received the report and a number of options were available to him, including appointing commissioners.
The minister could "suspend the whole council membership", said Mr McGregor, and "assume running the council from Cardiff".
"This authority hasn't just fallen into disrepute," said Mr McGregor who has previously announced he is stepping down from office in May.
"It has been in disrepute for a long, long period of time going back 20 years or more."
Responding to claims that the authority's problems had come to a head during Mr McGregor's time as leader, he said: "Where have the people been for the last 20 years or so?
"This authority has had a chequered history of member conflict.
"I only came into the council in 2008 and it's a bit rich the blame is now being put at my door.
"I do accept that perhaps there are things I could have done different and perhaps I have made mistakes, but I haven't made them twice."