Llandudno Great Orme goats damage Ysgol San Sior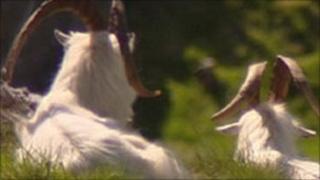 A head teacher says there are too many wild goats on Llandudno's Great Orme after they ate fruit trees and damaged a greenhouse at his school.
Ian Jones, of Ysgol San Sior, went to school on Saturday morning to find 30 goats in the grounds.
Since being introduced more than 100 years ago, numbers of Kashmir goats on the Great Orme have risen dramatically.
However, the total born last year was reduced by nearly two-thirds after they were injected with contraceptives.
The country park on the headland is run by Conwy council, but the authority does not own the goats, and it would not comment on the latest incident.
In the past, about 60 kids were born each year, which led to fears they were over-breeding. But a year after 65 nanny goats were vaccinated, only 23 kids were born.
Previously, some goats were relocated to reduce the population from 220 a few years ago.
"We had just planted native fruit trees, such as the Bardsey Island apple, and spent £160 on them, and I caught them red-handed," said Mr Jones.
He said the goats usually left trees alone, preferring softer plants, but this time they had eaten the trees to a point where there was no hope of them growing back.
It is the second time in as many weeks the goats have damaged school property because a greenhouse built of recycled plastic bottles was also damaged.
"We've sent a letter to the council to ask for money to buy more trees, and we are appealing for funds from the parents," said Mr Jones.
He said there was a lot of "sentiment" towards the goats, but there were too many of them.
"I'm not exaggerating when I say you can sometimes see 60 of them together," he said.
"I have nothing against the goats, and although there is a scheme to try and regulate the birth rate, I think it is too little too late," he said.