Legal action by Conwy council over Llandudno bridge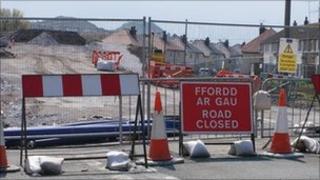 Problems surrounding the replacement of a bridge on one of the main routes into Llandudno have still not been resolved, nearly six months after it opened.
Maesdu bridge took 10 weeks longer than planned to build, and cost over £500,000 more than the £1.5m estimate.
Contractors said they were still owned money, although said they were confident the matter can be resolved.
Conwy council is also taking action against the project's consultants who said they would not comment.
The council's principal scrutiny committee were discussing the latest information on Monday, and councillors were told that details of the scheme had initially been withheld from the public because of "ongoing legal issues".
However, councillors heard that it had now been decided by the acting head of legal services that disclosure of the facts "will not prejudice the ongoing mitigation".
A report notes that the contractor - Dawnus Civil Engineering Ltd - claims it is owed "in the region of £360,000".
The payment remains unresolved as the project manager's team is "unable to agree on the principles underpinning the claims".
'Final payment'
An independent third party will now review the situation.
Conwy council said it was also pursuing action against the consultants - Atkins - to claim a "refund of fees and/or damages for their breach of contract and/or negligence in connection with their performance of the contracted services".
Bob Jones from Dawnus Civil Engineering Ltd said: "I confirm that we are in discussion with Conwy council concerning the final payment for the railway bridge at Maesdu.
"This is a normal process for complex construction contracts and we are both hopeful of concluding our discussions in a fair and reasonable manner."
The council and Atkins, along with their legal representatives, are due to meet on 11 March.
A spokesperson for Atkins said: "We are currently discussing this matter with Conwy council and can make no further comment."