Dog owners march on council plans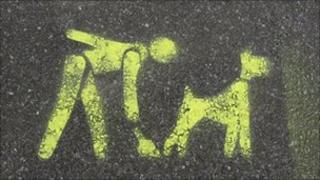 Dog owners marched in Colwyn Bay against dog control orders planned in the county of Conwy.
In a bid to clean up areas within the county the plans would restrict where dogs can go, and also where they can be let off the lead.
Pet owners feel it is going to far and want the council to embrace educational means to help combat the mess problem.
Conwy Council said the plans aim to provide "a safer and cleaner environment".
Comments can be sent into the council and the public consultation comes to an end on 10 March.
Dog trainer Elaine Bowley, who helped organise the march, said she had no objections to parts of the plans, such as keeping dogs on leads on roads, but some of the other controls were un-workable.
She said it was unclear which land would be exempt and dog owners could inadvertently end up with a £75 on-the-spot fine by walking in the wrong place.
Ms Bowley said the way forward was education and she was working with Abergele Town Council to set up a pilot project.
Information days were being organised in a country park so that dog owners can learn how to re-call their pets properly, and learn about the importance of worming them frequently, she added.
She also said the consultation period in the dog order plans should be extended.
The club she is involved in takes part in regular clean-up sessions on playing fields when dog poo is collected.
"There is a for and against here, but parts of the council's plans are too ambiguous, and will not stop dog mess," she added.
Nick Jones, the planning and environmental enforcement manager with Conwy council said the dog control orders were being proposed to "provide a safer and cleaner environment for residents and visitors".
"It's important to balance the interests of dog owners and the rest of the public, so through this consultation we're hoping to receive information and comments from Conwy County Borough residents on the proposed orders," he said.
Mr Jones said the council recognised that the "vast majority of dog owners act responsibly and keep their dog or dogs under control, which includes clearing up after them in a public place".
"Unfortunately, there are a small number of inconsiderate dog owners who do not, which causes problems for the community as a whole," he added.
The proposed orders with associated maps are available for the public to inspect at the Civic Offices, Colwyn Bay from 0845 to 1715 GMT (Mon-Thurs) and 0845 to 1645pm (Fri).
Or the proposed control orders can be seen at www.conwy.gov.uk/dogwardens
The march took place on Saturday along Colwyn Bay's promenade.