Caernarfon's young artists look for a new home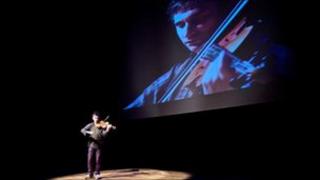 A group of Caernarfon artists who lost their exhibition space at Christmas are looking for a new home.
Y Bocs showed their work in the basement of an estate agents in the town centre for the last five years.
But the business needed the space for other uses.
The cooperative of graphic, sonic and fine artists, musicians and photographers, is now looking for a temporary home in an empty building.
The group of 21 artists is also applying for funding to find a permanent studio and exhibition space.
Artist Glenys Davies, an honorary member of Y Bocs who is helping them out, said: "It won't be easy to find somewhere in this climate, although we do have a lot of local support.
"If someone would give them six months to borrow a building as a base to show what they can do while they're waiting for grants to come through, that would be great."
She said the artists want a central location so local people "feel the place will be theirs as well".
Ms Davies added: "They were used to popping into Dafydd Hardy's [estate agents] and we'd like them to feel the same about coming in to see Y Bocs.
"Caernarfon has got so many talented people, and we lose them to London or Liverpool.
"If we had this art centre in town they could do a lot of outreach work with kids off the estates to start looking at art as a viable career, instead of something for the crachach [upper classes]."
Y Bocs member Sevan Garo said a central space was important for the town's art community, especially for young art graduates.
"If that resource isn't there, it's very hard for someone to develop because you don't learn as quickly; your thoughts and beliefs in art aren't being massaged and your work stagnates."
Trendy
Mr Garo said he worked in London for a few months, but said back home, people were "far more realistic about creating artwork, instead of being part of a scene".
He added: "It's about self-development and reflection, the individual aspect of creating art which is what I believe is most important."
While they search for a home, the cooperative has a few projects in the pipeline for the summer.
One idea is to transform part of Caernafon's Maes into a beach, complete with deckchairs, in memory of the late Cllr Bob Anderson, a supporter of Y Bocs who said he always wanted to fill the Maes with sand.