Bangor city boat yard homes plans deferred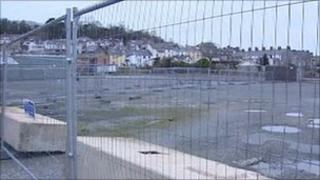 A planning application to build 72 homes on the site of the old Dickies boat yard in Bangor has been deferred by Gwynedd councillors for a month.
Developers want to clear the 1.08 hectare site in Hirael Bay to make room for a mix of houses and flats.
More than 60 letters against the plans have been received by the council and nine members of the public turned up in a meeting on Monday.
Objections include access, density of development, and flooding risk.
Public consultations on plans to develop the area have been discussed since at least 2008, and the council has designated the former boat yard as an area suitable for redevelopment.
Local community group, Grŵp Bae Hirael, argues that there is a "glaring omission" in plans to develop the area to "identify, or commemorate, the culture and heritage of this part of Bangor".
The group said there was a risk that elements of the area's history would be "obliterated" as developments occur.
It notes the Bay is rich in history and "represents the heritage of the ordinary people of Bangor" as it grew with the expansion of the city after Port Penrhyn was established at the end of the 18th century.
"Grŵp Bae Hirael has been working to ensure that any redevelopment of the area is of a high quality, appropriate to its surroundings, culturally sensitive and in keeping with residents' wishes," said a spokesman.
A report before councillors on Monday noted the homes plan is "a suitable and appropriate use for the site".
Council officers were recommending that councillors delegate the right to the planning manager to approve the application.
This would then be subject to conditions involving materials to be used, landscaping, and flood prevention.
There would also be a legal agreement called a 'section 106'.
A council spokesperson said this could mean an obligation to include, for example, affordable homes as part of a housing development, to provide play facilities, to fund public art or to invest in transport links.