£8m sea defence work to start on Colwyn Bay promenade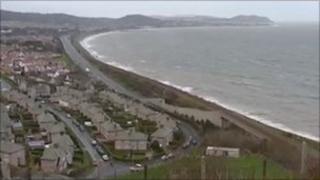 Work is expected to start later this month on an £8m coastal defence improvement project for Colwyn Bay.
The news comes as Environment Minister Jane Davidson approved a £2.7m grant towards the first phase of work on the promenade.
Earlier this week, Conwy council announced the winner of a competition to decide the architects - putting forward their own redevelopment ideas.
The plans will see the promenade raised to create a new area for visitors.
Conwy Council's defence strategy proposes to "re-nourish" the beach with sand and improve the sea walls.
This first phase is to build a 200m rock groyne to the east of the pier to contain sand.
'Attractive seafront'
The minister said: "One in six properties in Wales is currently at risk of flooding, with flooding estimated to cause in the region of £200 million of damage each year.
"Defences to protect against flooding and coastal erosion will continue to play an important part in managing the risks which is why I was delighted to approve this grant money to secure the start of this major coastal defence scheme on the north Wales coast."
The current defences are now more than 100 years old with the promenade in Colwyn Bay the first line of defence against the Irish Sea.
A storm last winter caused damage that cost more than £500,000 to repair.
Earlier this week, K2 Architects Liverpool was chosen to develop an "attractive and interesting seafront".
Their ideas were short listed by the public at an exhibition of several architects' ideas earlier in January before being ratified by the council.
The so-called Watersports Hotspot plans include a jetty, a public building with roof-top terrace and park.