Four Harlech men endure 'pure pain' for British Legion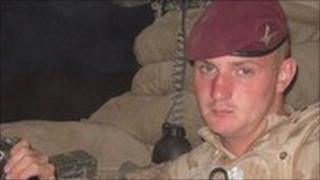 Four military men have endured "pure pain" in a 43-mile Snowdonia run to aid less fortunate comrades.
Tom Collins, Steve Evans, Martin Perch and Martin Howie, all of Harlech, Gwynedd, took just over nine hours to complete the challenge.
They were raising money for the 2011 Royal British Legion 90th anniversary appeal, which has a goal of £90m.
Mr Collins said the run had been tougher than anything the men had encountered in their army days.
The soldier, 25, who served in Afghanistan with 3rd Battalion The Parachute Regiment, told BBC Wales: "It was pure pain, particularly the last 10 miles.
"We were running 100 yards and then having to stop and walk but we had lots of army banter to keep us going."
The team set off at 5am on Saturday and ran along a circular route which took in Harlech, Maentwrog, Trawsfynydd, Llanelltyd, Barmouth and several hills.
Despite regular breaks, by the 25-mile mark they were all experiencing difficulties.
"Everybody was getting severe cramps, almost like electric shocks down their legs," said Mr Collins, who is now a civilian.
"The repetitive strain of our legs hitting the concrete has left us very sore, but I haven't been put off, and will be planning another challenge later in the year.
"It was tougher than anything I remember from being a soldier, mainly because I am a lot less fit now."
He said he came up with the idea of the run "to put something back to support the armed forces".
'Major effort'
Mr Evans, 30, has been on operational tours in Afghanistan, Northern Ireland and Iraq, and returns to Afghanistan in 2012.
Martin Howie joined The Royal Welsh aged 16, served in Afghanistan, Northern Ireland and Iraq, and left the forces a year ago, at 22.
The fourth member of the team, 24-year-old Martin Perch, joined the Royal Marines when he was 18 and, since being medically discharged with a leg injury while undergoing training, has undergone a series of operations.
Kevin Forbes, the British Legion's north Wales community fundraiser, said: "This is a major effort by a group of young men who are trying to give something back."
He added that fundraising enabled them to offer advice on pensions, benefits and careers, as well as home and hospital visits, nursing care and grants for those in need.