Pop artist Charlotte Church turned into pop art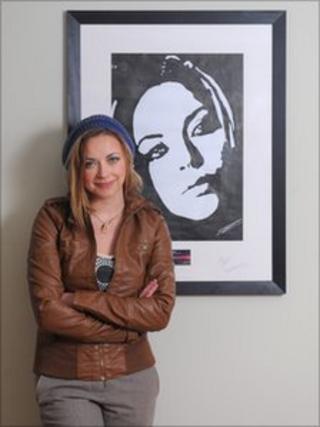 Singer Charlotte Church has been busy carving out a career in pop music, and has now been turned into pop art.
Cardiff artists Adam Clarke and David Robinson had no idea if the mother-of-two would approve of their stylised black and white portrait of her.
But the singer said: "I can't believe how life-like it is - the artist has really caught my mood."
The portrait now hangs in the breakfast room of her mother's hotel.
"I really love the pop art picture and art is definitely something I would love to get into when I'm older," said the 24-year-old.
"And Mum's guesthouse may not be the Louvre. but it's a bit of a gallery to me, I'm afraid."
The pop art portrait is one of many dotted about the Cardiff business run by Church's mother Maria and stepfather James.
The B&B is named the Dexby Townhouse after the singer's children with her former partner, the rugby star Gavin Henson, Ruby, three, and two-year-old Dexter.
Church added: "Most of the art in my house is what the children have done. Ruby is a good little artist and Dexter mainly paints himself.
"I have one other portrait from an American artist which was a gift when I was younger."
Mrs Church, 45, who opened the hotel last year, added: "We are so proud of everything that Charl does and have all her album awards and pictures on the wall.
"It's a great talking point for all our guests and she always looks pretty as a picture."
Andy Warhol
The portrait is the brainchild of a new company called Pop Art Wales.
Owner Adam Clarke said: "It was a pleasure to do Charlotte's portrait. She is now the first of a series we will be putting together on Welsh greats."
The artists said they were hoping to repeat their success with a portrait of Pontypridd-born singer Sir Tom Jones.
They said they plan on choosing a new celebrity to portray once a month.
The friends have set up a website and group to help aspiring artists get their work publicised and exhibited.
Pop art first developed on either side of the Atlantic in the 1950s when artists drew inspiration from sources in popular and commercial culture, such as Hollywood movie stars, pop stars, advertising and packaging.
Among its leading exponents were Andy Warhol and David Hockney.