Conwy council chief says rape case woman 'targeted' him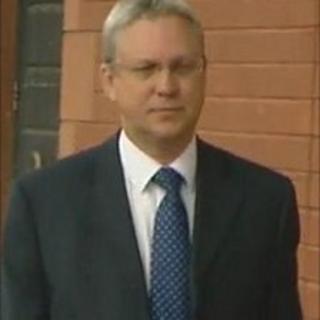 Conwy council's chief executive, who is accused of raping a 26-year-old woman, felt she was "pushy" and had "targeted" him, a court has heard.
Byron Davies, 52, said he was anxious and nervous when he took the woman - who also worked for the council - to his Deganwy flat on 23 March last year.
He was flattered by the attention of the "attractive and flirtatious" woman half his age, Mold Crown Court heard.
Mr Davies, of Yelverton, Devon, denies rape. The case continues.
He told the court he was single at the time.
When asked whether he should have invited a married employee of the council back to his home, he said: "It had nothing to do with the council. I am not a married man and it's in a social area."
Mr Davies said he had stopped after work at the Castle Hotel in Conwy before going home.
He said he noticed the young woman, who he had never met before, staring at him and he felt uncomfortable.
The woman stopped at his table and started asking him about his background. He invited her to sit down and offered to buy her a drink.
He said she was "very pushy" but he was also "very flattered".
After buying her a couple of drinks, Mr Davies said he was leaving. He said she "gulped" down her drink and followed him into the foyer, where she told him: 'Byron, I am on my own, I am always on my own'."
At this stage he suggested she could come back to his apartment.
"I was quite flattered she was keen to come back with me," he said.
'Kissing me strongly'
Once there he said he made her a mug of tea and kissed her, but she did not push him away.
He told the jury she slid onto his lap and they started to get intimate.
"After a period of time I asked her if she wanted to go to bed with me," said Mr Davies. "She was kissing me strongly. I was quite anxious and nervous."
He carried her to the bedroom and they had sex, he said.
About 6am, Mr Davies said, he got up for work, but found it difficult to wake her.
He said he offered to run her home but she said it was a nice day and she refused the lift.
Asked if he arranged to meet her again, Mr Davies said: "Regrettably and not very gentlemanly, no. It was a one night stand and I apologise for that."
He added: "There is no doubt in my mind she targeted me. She knew my name, she sought out my company. She went out of her way to come to my table."
Earlier the court heard the woman had no recollection of what happened and that she was too drunk to consent to sex.