Cliffhanger at struggling Coliseum cinema in Porthmadog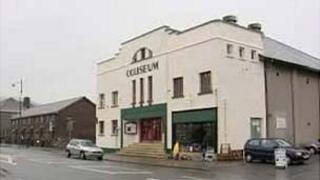 The curtain could fall for the last time at a cinema as the volunteers who have run it for over 20 years struggle to make ends meet.
Falling attendance figures, possibly due to the financial climate, are being partly blamed for the cliffhanger at the Coliseum in Porthmadog, Gwynedd.
The last of the current films will be shown this weekend, with an intention to reopen in the spring.
Meanwhile donations and volunteers, are needed to prevent a final "The End".
In 2007 a public appealed rescued the cinema from the brink of closure.
The £14,000 raised helped to fix the heating boiler and spruce up the building.
The closure of Bangor's Plaza Cinema also meant 200 "nearly new" seats were available to replace the upstairs seating.
Now falling attendances have again put its future in doubt.
"I'm not sure what the reason for this is, but it might be the recession, rising costs - people have all sorts of demands on their cash," the cinema's secretary, Eryl Morris, told BBC Radio Cymru's Taro'r Post programme.
Mr Morris said that despite being a small concern the cinema always managed to put on the latest releases.
He added that during the winter local people seemed to prefer to travel to the large multiplex cinema 42 miles away (68km) at Llandudno Junction, but during the summer months tourists boosted attendances.
"In the past that has kept us going over the winter, but not this time," he said.
Mr Morris denied the fundraising of 2007 had been a waste of money.
"It would have been good to have more volunteers to run the place from day to day, though," he added.
Despite the setback Mr Morris said the hope was to reopen around Easter.
"We are not a charity so we can't attract grants, so we are completely dependent on takings on the door.
Empty building
"So if anyone can help at all we would be very grateful," he added.
Gareth Humphreys, from the Gwynedd Tiles and Stone Centre near the cinema, said he remembered going there as a little boy.
"It will be a big loss, and not just for the people of Porthmadog, but from the surrounding areas, who go there to watch films," he said.
Any closure would also leave the town with a very large empty building, he added.
However, Cara Griffiths, 19, said the films being put on did not appeal to people of her age.
"A lot of young people from Ysgol Eifionydd [secondary school] go there, though, as I used to do when I was at school," she added.
Another cinema-goer, Osian Roberts, also felt that local people preferred to travel to Llandudno.
"I do go to the cinema here, but basically you have to watch whatever is on and people are used to having more choice," he said.