Rescuer saves ponies from burning stable in Anglesey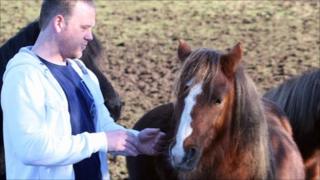 A rescuer has been praised for pushing two terrified ponies from a burning stable.
Despite thick smoke and flames, Gary Roberts from Gwalchmai, Anglesey, dashed in to usher the cowering horses to safety.
He said he did not think of the danger as he just wanted to get the ponies out.
North Wales Fire and Rescue Service said the blaze, on Friday, 14 January, appeared to be deliberate.
"I saw orange flames when I went into the kitchen to make toast at about 10.30pm," said Mr Roberts, who lives with his grandfather in Gwalchmai.
"I opened the front door and saw the fire and shouted to my grandfather to ring the fire service," he added.
When he got to the stables the ponies - Welsh Mountain cob-type Ewyn Josie and Ty'n Ffrwd Carys - were "really quiet".
Hay and straw
"They were in the corner, they weren't moving and I couldn't leave them there," he said.
"I went in and pushed them towards the door, it was a case of having to do something.
"I couldn't live with the 'what if' if I hadn't done anything," he added.
The fire is believed to have started in the adjacent stable, which was piled with hay and straw.
"The ponies' stable was full of smoke and the flames were starting to come through, literally minutes later it all went up," Mr Roberts added.
He was glad he had gone into the stable, despite the danger to himself.
"I've seen the two of them running around in their field, looking happy, so yes I'd definitely do it again," he said.
Second fire
The horses' owner, Gwilym Wyn Thomas, said the animals were lucky.
"I've just been to see Ewyn Josie and she has a mark on her where she had begun to burn," he said.
Mr Thomas added that roof joists had fallen in the blaze, and Mr Roberts could have been injured.
"He was very brave to do what he did," he added.
About £2,000 worth of damage was caused by the blaze, he added.
The fire is the second such incident to affect him, and previously a container of hay was set alight.
He said he was uncertain whether he would carry on breeding the Welsh Mountain section C cob-type ponies after the latest incident.